Travel from North to South Vietnam, from Hanoi to Ho Chi Minh City, and make these stops along the way.
The small Asian country that is Vietnam has become a popular destination of choice. As places in Southeast Asia like Bangkok and Bali become overrun with tourists, Vietnam's untouched charm is a draw for travelers.
Whilst you can choose to simply spend all of your time in Saigon (also known as Ho Chi Minh City), the best way to really see the country is to make the journey from North to South.
For the most economical way to travel, you can purchase a bus ticket that will get you all the way from Hanoi to Saigon. You can also customize your journey to make stops along the way. Trains are also an option – however, buses are by far the easiest and cheapest way to go. There are many sleeper buses with double-decker seat-beds rather than usual seats, so it's a good idea to take the bottom seat-bed. However, if you're not into taking the bus, then flying is really cheap and Jetstar will get you across the country.
Hanoi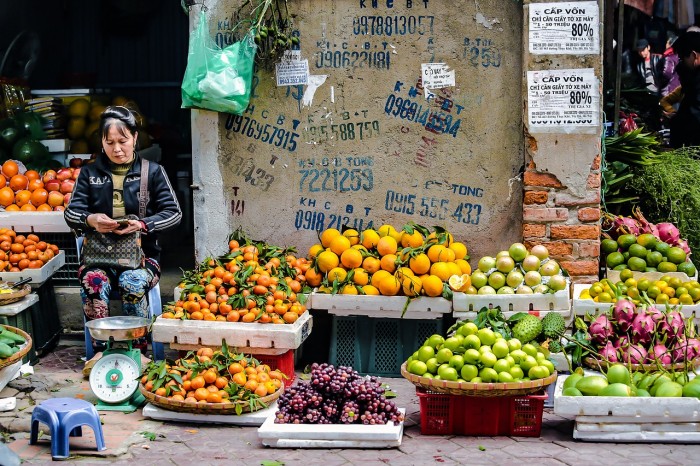 The largest city in the North, Hanoi is a bustling metropolis full of side streets and bright lights. If you have never been to an Asian country then the traffic can seem a little crazy. However most moped drivers will simply go around you, so don't hesitate when you cross the street – just go for it.
One thing about Hanoi is that the price of shopping is a little more expensive than South Vietnam. So save your hard-earned money; you're bound to get things cheaper elsewhere.
There is plenty of street food to sample, but the best by far is bun cha, which is a dish of grilled pork and noodle. It's served with grilled pork patties (cha) and white vermicelli noodles (bun). Usually, it's served with some banh goi (a pork, onion and mushroom spring roll) and herbs, chilly, garlic and dipping sauce. It's pretty hard to find it in any other place so grab some and your taste buds will thank you for it.
Insider tip: There is a common scam here in Hanoi whereby hotels that are listed online actually do not exist. You get into a taxi at the airport and ask to be taken to your hotel only to arrive and be told that it's "under renovation". Taxi drivers get kickbacks from local hotel owners to run in on this scam, so the best thing to do is to head to the Old Hanoi Quarter and see what you can find. Also, it is common to find tour desks inside hotels that will mark up the price of tours to make a hefty commission. The best thing to do is find a tour outside of your hotel – there are plenty of tour operators around, so save yourself some money.
Halong Bay
Dubbed as one of the wonders of the natural world, Halong Bay will not disappoint you. It's best to book a tour, but avoid booking through your hotel as many hotels bump up the prices. Expect to pay less than $100 for a tour booked from a tour desk along the street. The journey will take about two hours so make sure to book an overnight trip. Watching the sunrise from Halong Bay is a bucket-list activity.
Whilst you're in Halong Bay,  you can also enjoy some adventurous pursuits. Hike through one of Vietnam's largest limestone caves, Sun Sot Cave – most tours stop here for a walk. The area is fairly busy, leaving little time dawdle, so it will be a power walk through a really large cave jam-packed with people. However, it will certainly be a spectacular sight.
In the evening there is a quick stop to kayak, where you can either sit while someone rows you through the caves, or you can grab a buddy and have a go at kayaking yourself. Whichever you choose, it's well worth the breathtaking views.
Ninh Binh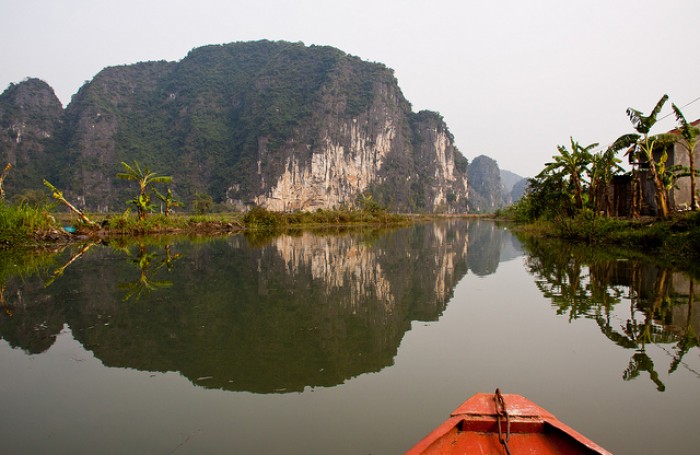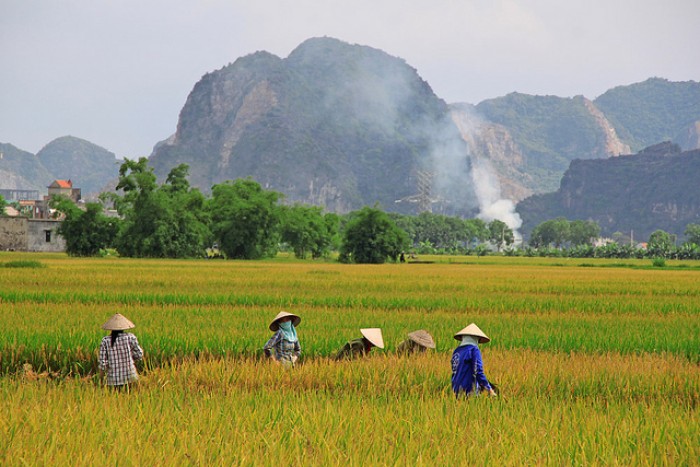 Jump on the late bus and make your way to the small out-of-the-way town of Ninh Binh. Try to book your hotel in advance as arriving late at night in a small town without a place to stay isn't a great idea. Not a lot of tourists venture here. However, for the more experienced traveler, this is a must-visit for the magical scenery surrounding the town.
Trang An Grottoes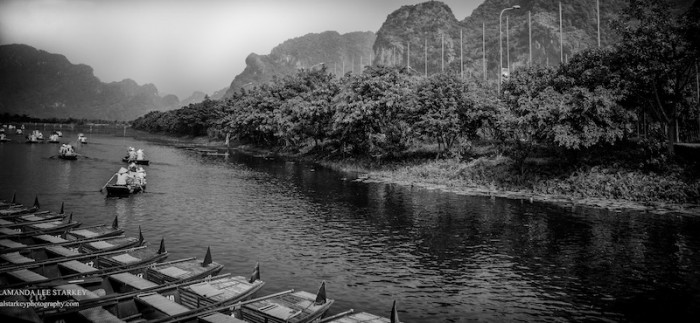 A short drive just outside of Ninh Binh is the stunning Trang An Grottoes. The best way to enjoy this UNESCO World Heritage site is an amazing boat ride through the picturesque scenery. Paddle through limestone caves with sparkling stalactites descending from the cave ceilings, so low that you have to duck at times.
Insider tip: It takes four hours to canoe the grotto so slather on the sun cream or wear a hat.
Mua Peak
For the energetic travelers, Mua Peak is a 450 steps climb to the top. Stunning views of the region await you, of the Red River Delta to the East, rice paddies below and mountains surrounding. It's a strenuous climb and steep at times, so take water and make sure to pace yourself.
Hue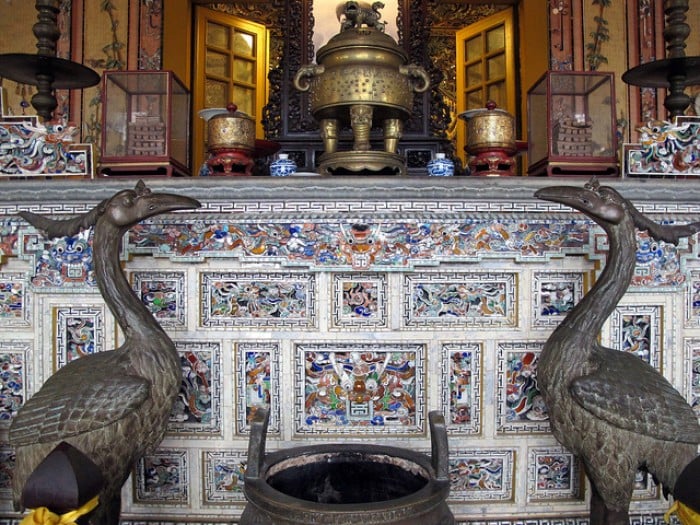 Image credit: Christopher Porter
The small town of Hue is worth visiting for some of the historical sites that the city boasts. The Imperial Palace is worth a look, but take water as there is not a lot of shade and it gets pretty hot walking around in the sun.  Another really interesting place to visit and hailed as one of the most splendid tombs is the Imperial Tomb of Khai Dinh. This tomb, which took an astonishing 11 years to build, is a short drive out of town. It's worth a look just to admire the architecture and the stone soldiers that stand as sentinels, guarding the front courtyard.
Hoi An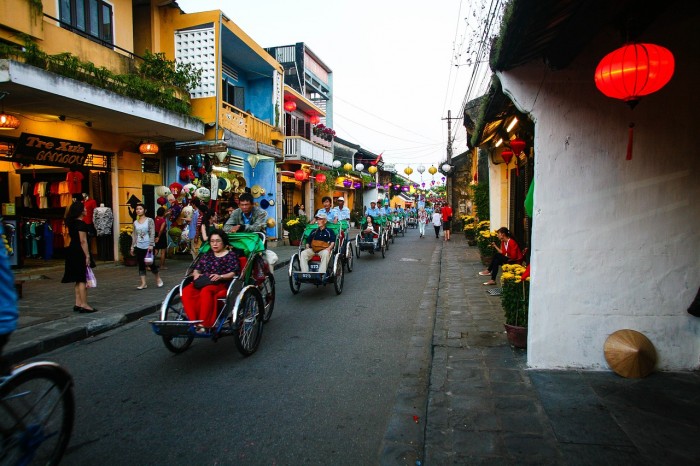 Known as the shopping capital of Vietnam, Hoi An is a place where tourists flock to have garments handmade by one of the city's many tailors. Simply choose the fabric, give your instructions, and by the next day your new garment will be ready. There are hundreds of fabrics and styles to choose from, or you can buy what is known as a 'ready-made' garment for fairly cheap at any of the local stores. The vendors are usually very friendly and more than happy to alter any garments you choose.
Insider tip: Hoi An has some amazing street food, probably some of the best in the country. It's fairly cheap and at night the city comes alive with vendors. The night markets crop up at dusk and at the water's edge there are lanterns that you can purchase from one of the many elderly women. Hoi An really comes alive at night and is spectacular.
Mỹ Sơn Temple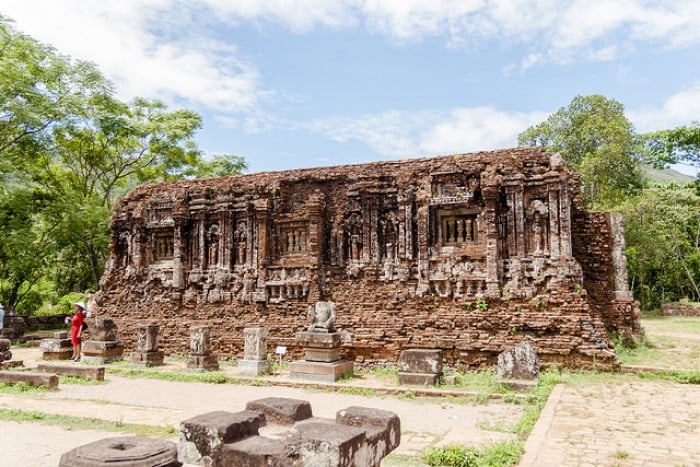 Image credit: Duc
Just outside Hoi An is the Hindu temples of Mỹ Sơn (pronounced mee soon, not my sun), a temple that was constructed between the 4th and 14th century to honor the God Shiva. The temples were bombed heavily during the Vietnam War but many still remain somewhat intact. Join a guided tour – it is worth it if you want to know the history of the place. Otherwise, hire a moped and take a self-guided walk. Again it's pretty hot here so make sure to hydrate yourself.
Insider tip: The only toilets are at a kiosk on the way in and they don't stock any toilet paper, so make sure to pack some. 
Saigon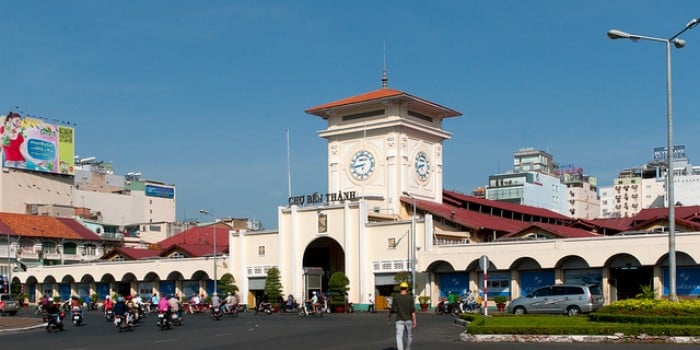 Image credit: Sergey Yeliseev
Even though it's officially known as Ho Chi Minh City on the map, it is a bit of a faux pas to call it that when in Vietnam. Saigon is what the locals will always call it and they are immensely proud of this bustling city, refusing to accept the renaming. There is a lot to do in the city. However, with four million motorcycles, be super careful where you walk. Most drivers will simply go around you, but the occasional one might be too busy staring at their cell phone to notice you, so make your presence known when you need to.
Saigon is famous for its bustling markets that inadvertently crop up all over the place in alleyways and on street corners. The largest and most permanent market – Ben Thanh Market – is in District one and is loud, overpriced and very touristy. However, it's worth a look here as all the different kinds of food are simply amazing and will have you scratching your head in wonder. However, if you can avoid it, don't buy your trinkets here as they charge inflated prices to tourists. Stick to local shops to make purchases to take home.
Cu Chi Tunnels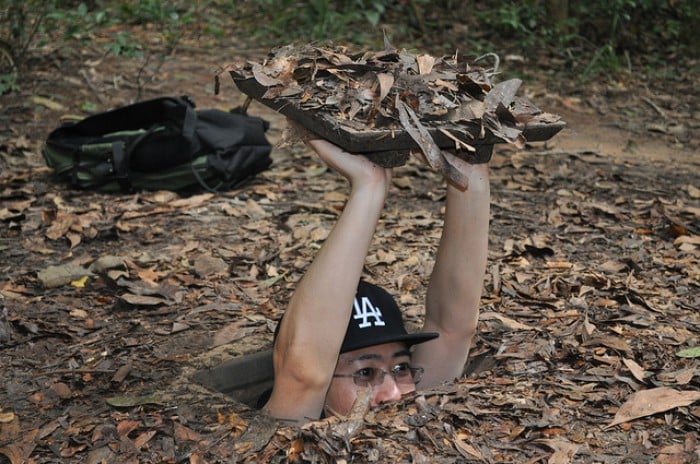 Image credit: David McKelvey
Originally built in the late 1940s, the Cu Chi tunnels are an intricate system of tunnels running underground in the Saigon district of Cu Chi, and were a hiding place during the French invasion. Later, they were used as hiding places during the American War and it is believed the tunnels run all the way to the Cambodian border.
Nowadays, they have been widened for the slightly taller tourists and this site makes a really interesting half-day tour. They are eerie to crawl through and if you are brave, you can find out exactly how inhabitants lived. For the more adventurous, try your hand at shooting a round at the firing range, where you can fire live ammunition from any of the high-powered guns such as the M-16. Warning: This is a lot of FUN! Tours are fairly cheap and a half-day tour is recommended. If you can go in the morning, it's best to do so as the area is known to experience afternoon monsoonal rains.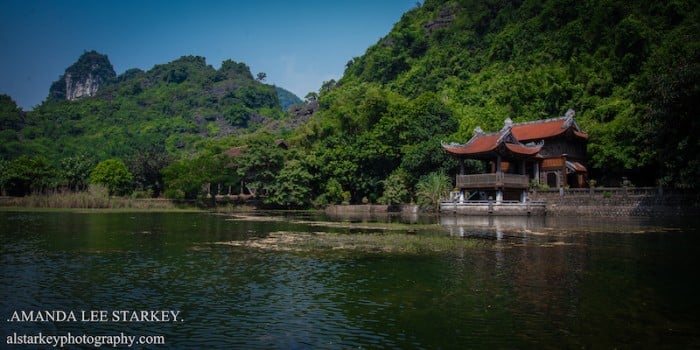 For the experienced traveler, Vietnam is a delightful country that will tantalize and seduce you with its simple charm. The people are friendly, curious and always helpful. For the less experienced travelers, it is a country that will welcome you with open arms and leave you wanting to explore more of this incredible planet. The best way to travel in Vietnam is to go with a sense of wonder and curiosity. Vietnam is a truly heart-warming place to visit.
However, also make sure that you are aware of common scams. Like with many developing countries, there is a common misconception that if you have light skin, you must be wealthy – Vietnam is no exception to this. Make sure you travel smart and do your reading on what to expect. Whilst it is nice to be invited for a drink, you might be stuck with the bill – so be careful of things like that.